Interview with Dublin People in the latest issue: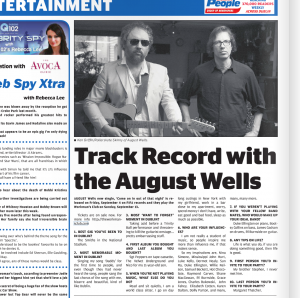 see the issue here:
issuu.com/dublinpeople

"A LOT of people say that New York is a kind of salvation place for a type of person. I came here; felt very much at home almost immediately."
Irish musician Ken Griffin has been living in New York for the best part of two decades now. During that time he has had a couple of periods playing with bands, such as Kid Silver and Favourite Sons, but he has been mostly getting by as a bar man.
"I've basically been owned by the New York night now for 20 years," he quips.
Even so, the city sustains him and continues to excite him as much now as when he first arrived here "There was just an energy here," he explains, "and in Dublin at the time it was pretty grey. There wasn't really much of a music scene. It's not like it is now at all. New York just excited me and it made me feel awake.
"There's something about New York and its nightlife that just satisfies you. It's almost like art in itself. I don't know. I just kind of find it inspiring and satisfying."
Griffin's first forays to New York City were made while his band Rollerskate Skinny were beginning their implosion during the making of the ambitious Horsedrawn Wishes album.
"I think very few bands survive that kind of total commitment," he says with a bone dry laugh, "and madness that we had at the time. When you get into the studio whoever pushes themselves harder kinda gets their say and I decided to push myself pretty hard on that album. So I ended up pretty isolated in the band. And it was clear we weren't going to survive. I wanted to move to New York and the guys wanted to stay in Dublin, so… "
Taking their cue from the dense production methods of acts like Public Enemy, Rollerskate Skinny ran counter to the prevailing mid-90s orthodoxy of Britpop. The reputation of their albums Shoulder Voices and Horsedrawn Wishes has only grown and Griffin's revelation that alternative takes exists of a handful of songs from the latter album will only serve to excite fans as the 20th anniversary of the album approaches next year.
Griffin is promising nothing. Right now he is immersed in his latest project August Wells, a two-piece comprising Griffin on guitar and pianist John Rauchenberger. Over songs that are stripped-down, wistful sounding and replete with strings and French horns, Griffin's bruised vocals tell tales of heartbreak and regret.
Griffin initially planned for the album to be self-released but his friend and fellow New York resident Graham Finn, a former member of Cork bands Emperor of Ice Cream and Bass Odyssey, suggested he try Cork indie label FIFA Records.
Rauchenberger's musical interests stem from experimental classical music and bebop jazz and Griffin takes delight from his total lack of interest in or knowledge of contemporary music from the last forty years.
"It's kinda like playing with Thelonious Monk or something," Griffin surmises. "I'm playing like three chords and singing and there's this mad genius in the corner. It's just a very exciting experience for me to feel pushed so I feel like I have to push my lyrics, push my voice. Push what I'm good at or what I think I'm good at and just leave the musicianship to him."
It could be a winning combination.
Read more:

In conversation with Ken Griffin, formerly of Rollerskate Skinny and Favourite Sons, now of August Wells…
The following interview was published in Cork's Evening Echo on 23rd April 2015
Having just woken up in the city that never sleeps, August Wells' Ken Griffin chats from his Brooklyn apartment in New York where the former Rollerskate Skinny and Favourite Sons frontman has lived for the past 20 years. A mere weekend in The Big Apple can significantly change a person so what effect has two decades had on the Dubliner?
"I have tended bar for most of that time", explains Ken, "so my experience of New York is very much about its people – an almost constant flow of face-to-face encounters with strangers. As a writer I hear a wealth of common experiences, and not so common experiences. It's good for me through work to be forced into these social situations because, left to my choices, I tend to pick isolation. New York has pushed me out among people, which I am grateful for…most of the time."
Despite retrospective acclaim (Rollerskate Skinny's 1996 record Horsedrawn Wishes placed #7 in the Irish Times' Top 10 Irish albums of all time), commercial success has continuously eluded Griffin's various projects. After more than 20 years in the business, he's still unsure why.
"I seem to repel the industry for some reason. Maybe the gods are protecting me from all that stuff! I suppose I have never really liked indie or alternative rock. It always seemed so insincere, mocking even. I think it's an attempt to disguise a lack of any real talent. My secret probably is this: I have always loved hip hop and Willie Nelson."
Set to release new single Here In The Wild on FIFA Records – a label with an attitude he "found both refreshing and straightforward" – the plaintive piano ballad is an ode to escape from reality and time itself. Containing slicing lines of self-examination such as 'People like us don't exist anymore, we're invisible now', the song is anything but disingenuous.
"Worry is a feeling I battle with a lot", admits Ken when asked how it felt to leave himself so emotionally bare on the new track. "It's a useless feeling and it makes me second guess myself. I try to ignore that particular inner voice if I can, but I struggle with it. Rollerskate Skinny was a youthful attempt at a huge art statement. It was about filling every space and gap with sound, so that any reflection could be avoided. The desired effect was total surrender to an alternative perspective, but I have no idea if we achieved that grandiose youthful idea.
"I suppose at heart Favourite Sons was four people very uncomfortable playing rock and roll, playing rock and roll. It was also my first attempt at traditional songwriting. I know it seems like a different world to all the members now but the second album, The Great Deal of Love, is a piece of work I think we are all very proud of.
"But laying myself bare? I think there are three routes to finding your authentic voice. One: you are a natural, it just pours out of you. You still have to work on your chosen instrument, but your voice is just there. Two: you are good at creating a fictional character, you can make it seem very like authenticity. You're a storyteller, a craftsman.
Three: if you just live long enough, and keep at it long enough then you have a life behind you, and you can just speak from your actual experiences, your truth. Me? I went around the mountain. So 'laying myself bare' is where I have finally found my true artistic voice."
Integral to the August Wells voice and sound is New Yorker John Rauchenberger's piano which provides the perfect foil for Griffin's sombre baritone. What is it about their partnership that makes him feel 'there's something magic here'?
"I had known John for two years before I even knew he played piano. It was strange to know him and then, one day on a piano in his living room, witness a great talent he had. About a year later I asked if he would be interested in playing a few songs together. We set up in his house and from the beginning I noticed everything he played was taken with an unexpected approach to each song. I don't think he will mind me saying that he is refreshingly unfamiliar and uninterested in the popular music of the last few decades. His high level of musicianship put me in the position of having to reflect on my own strengths and limitations. In a way it freed me to purely concentrate on vocals, guitar and song structure. So to answer your question, I think the magic comes from the combination of very different skills, and a mutual respect for each others' skills."